Looking for some expert advice on the best Hornby Train Set? In this guide, updated for 2022, we've taken a look at a wide variety of quality Hornby train sets so that you're in a better position to make the right choice when purchasing.
With an abundance of choice when it comes to the best Hornby train set to buy, it can be difficult to choose the most suitable one for you. Perhaps you're buying the kids their first train set, are looking at getting into the hobby yourself, or maybe you're a seasoned collector - there's certainly a train set for you.
We've used our many years of experience and our extensive knowledge in all things model trains to help you get the perfect Hornby train set first time.
In this guide we'll review the best Hornby train sets, organised by type and age group for ease of navigation, and use our real-world experience to discuss the benefits of each. This post is part of our train set series, where you'll find useful tips, expert reviews and our recommendations for everything from the Best wooden train set to the differences between DC and DCC model trains.
This guide was last updated in July 2022.
Best Hornby Train Set for Kids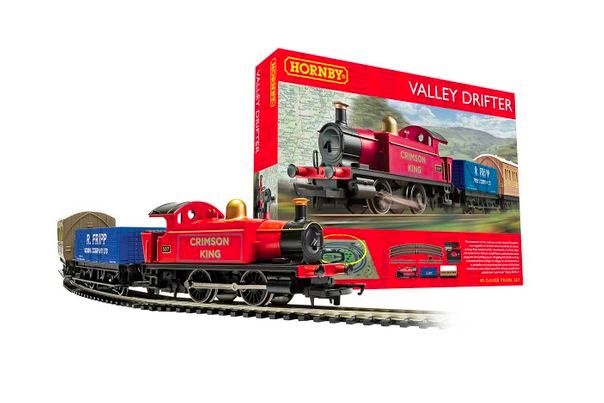 The Valley Drifter Train Set is an ideal starter set for children. This includes an 0-4-0 locomotive, four-wheel coach, wagon, and sufficient track for an oval circuit, in addition to the train controller and transformer.
The advantage of a train set like this is that it provides a good introduction to the world of model trains at a very reasonable initial cost. It's very expandable, with a wide variety of additional locomotives and accessories available, meaning that if your kids get more interested in train sets, it's easy to expand in the future.
The locomotive in this set is small with only four wheels, which makes it easy for younger children to operate and put back on the track. It will also be less fragile than larger alternatives, meaning it should stand up to harsher treatment.
Whilst this set would ideally come with a little more track, as previously mentioned there are many expansion packs that can be purchased later and are easy to integrate.
This is certainly up there as the best train set for kids currently on the market.
Another very popular Hornby Train Set for kids is the Hornby Harry Potter Hogwarts Express Train Set. This is a fantastic train set is of excellent quality, and is sure to be a hit with any Harry Potter fans!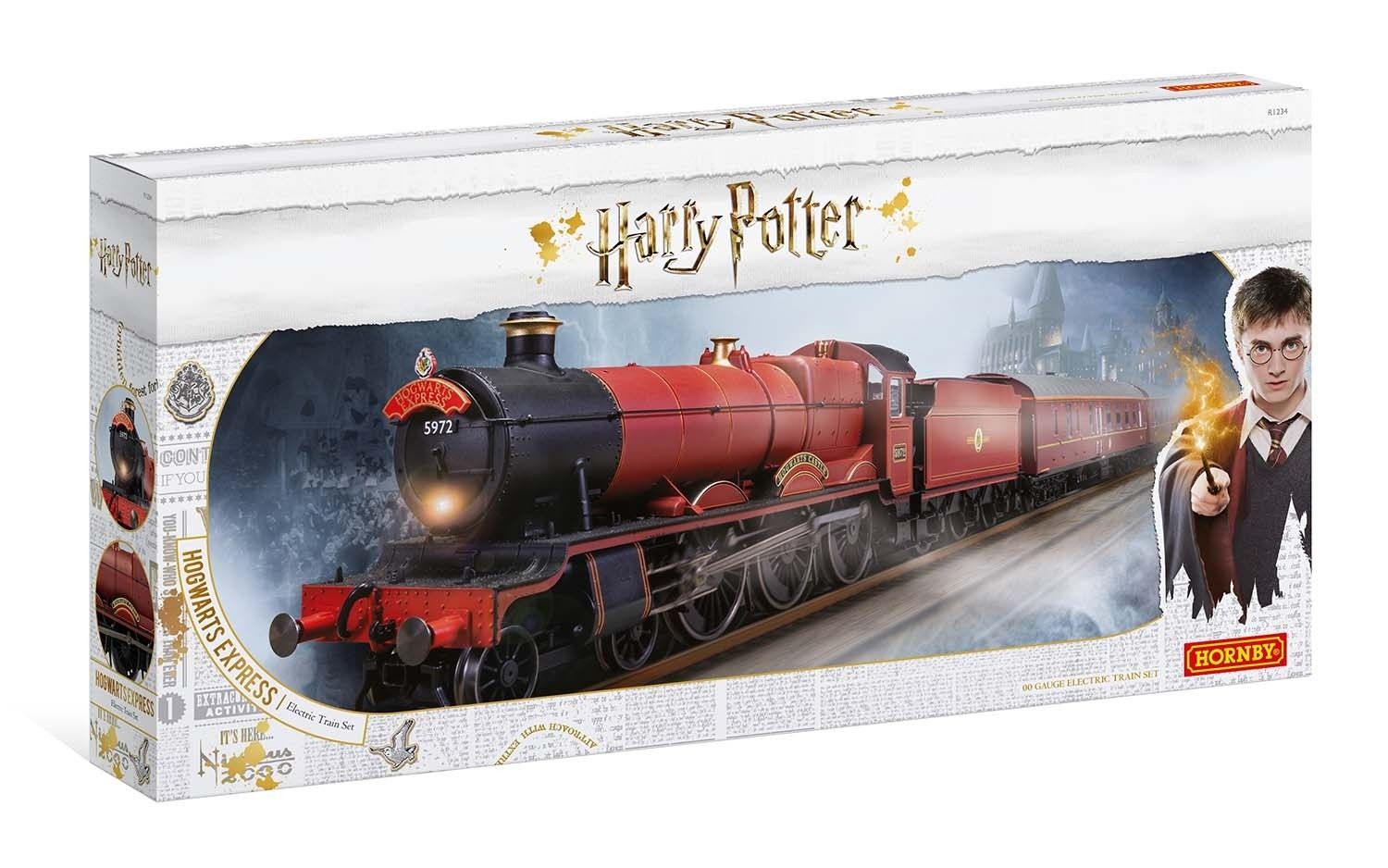 This train set features locomotive number 5972, Hogwarts Castle, two maroon carriages, oval track, mat and controller. Hornby have produced a train set that is of great quality, features a fantastic level of detail, and is easy to assemble and use. Whilst this set is primarily aimed at children, anyone who's a Harry Potter fan is sure to have fun!
Best Hornby Train Sets for Toddlers and Young Children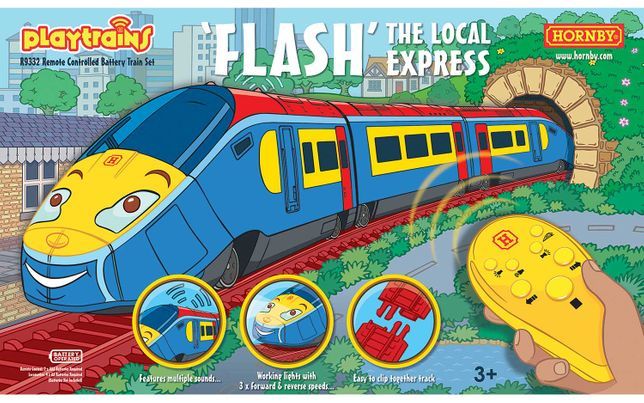 Hornby also have a number of train sets in their new Playtrains range more suited to younger children and toddlers. These sets feature remote controlled battery operated locoomotives and the carriages have bright colour schemes. The Hornby Playtrains Flash The Local Express is a great choice and highly recommended. It has great play value for kids at the start of their model trains journey. There's also the Hornby Playtrain Bolt Express Goods train set which is a freight train version which is also great. These sets are also very reasonably priced compared with more traditional train sets.
The advantage of both these train sets is that they can be expanded with the Track Extension packs which provide more track components so you can create some interesting track layouts. However, this track appears to be unique to Hornby Playtrains sets - so compatability with other manufacturers is unlikely.
For very young kids we would still recommend a high quality wooden train set. These are often the most cost effective option and top quality offerings from brands such as BRIO have stood the test of time over many years. Hornby Playtrains is a relatively new product line, so its longevity has not really been tested to the same extent that tried and tested wood train sets have.
For slighly older kids we think it's worth investing in either the Highland Rambler Train Set or the Hornby Harry Potter Hogwarts Express train set as kids will be less likely to quickly grow out of these sets. They're also very robust for a more traditional train set and are certainly well designed and built.
Hornby Train Set Thomas the Tank Engine
There are also several Thomas the Tank Engine train sets available. Depending on the set these either come with a 'Thomas' or 'Percy' locomotive and a pair of wagons or carriages, some track to make an oval, and train controller. These can vary significantly in price, so you'll need to consider how long your child is likely to maintain their interest and for how long the set will be used, and balance this against the initial cost to determine whether it is worth purchasing. Availability can vary significantly, so we would recommend searching for 'Hornby Thomas Train Set' on eBay to get the best deal.
However, you may be better off with a train set like the Hornby Harry Potter Hogwarts Express previously mentioned, as this will appeal to a wider range of ages and is usually always available.
Model Train Sets for Adults
Perhaps you've just got into model trains, or maybe you're restarting the hobby after spending some time away from the tracks. There are many good options for 'starter' model train sets for adults. One of the best options is the Mixed Freight Digital Train Set. This includes a J83 steam locomotive and a class 08 diesel (both in 0-6-0 wheel arrangement), along with a selection of wagons and track.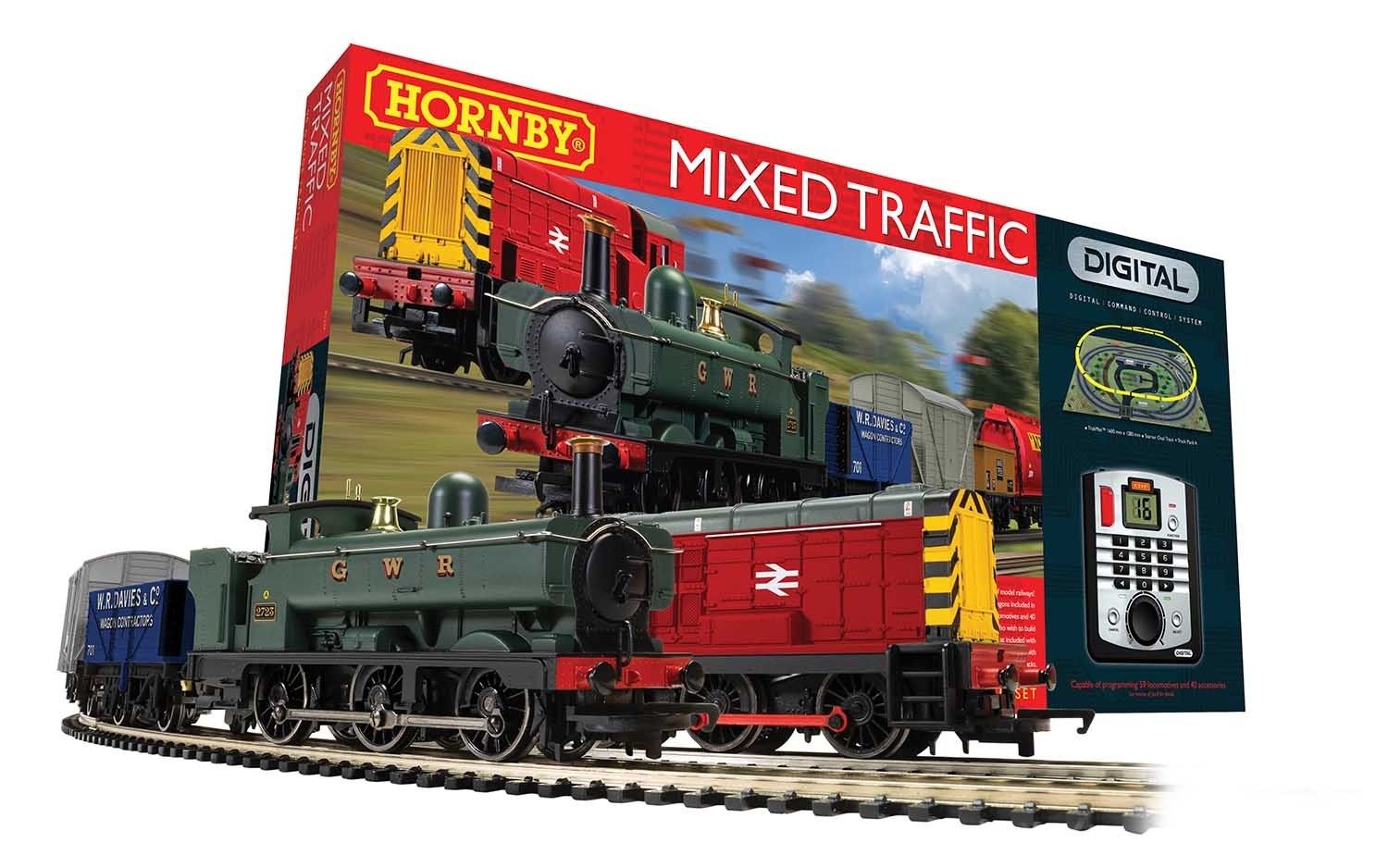 The previous sets mentioned in this article are all operated by Direct Current (DC). However, this set is DCC - meaning a digital controller is included. This essentially allows more operational control and flexibility, as each train can be controlled independently. For more information on this, check out our article on the differences between DC and DCC model trains.
This set represents good value and is a great cost effective introduction to the world of DCC model railways. It also provides a good base on which to start your model railway journey, and allows for easy expansion should this be required in the future.
Hornby Train Sets Collectors
There are also a wide range of train sets available for collectors. The used market is likely to be the best port of call here. It's possible to find many Hornby trains for sale second hand that are suitable for collectors. Always do your due diligence prior to purchasing to ensure the product is genuine and in good condition for its age. Ideally view the items prior to purchase.
In addition to this Hornby occasionally release limited edition runs of certain train sets. These are certainly well worth adding to any collection of model trains. However, as these are produced in limited numbers, they usually sell out very quickly.
Hornby Train Set Flying Scotsman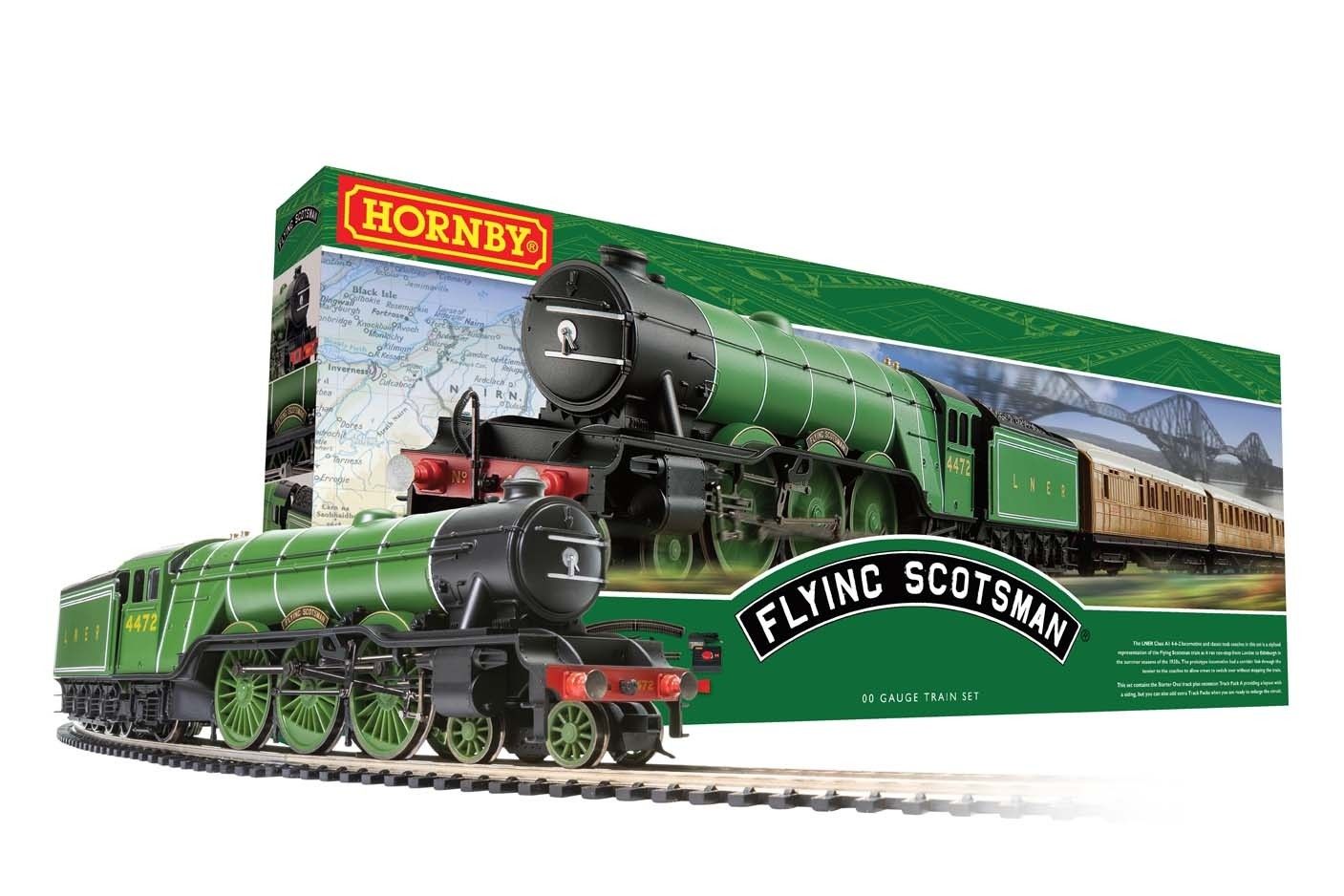 An article looking at the best Hornby train set would not be complete without including the iconic LNER Class A3 Flying Scotsman locomotive. Famous around the world, this engine needs no introduction and a train set featuring this locomotive would appeal to almost anyone.
The set, of course, features a model of the legendary locomotive, in addition to three coaches, track, and controller. The included loco has the benefit of being DCC ready, meaning that it's very easy to use with a DCC setup if you upgrade in the future.
Whether you're looking to rekindle a past love of model railways, or just getting started, this train set is sure to be a hit!
---
No matter your motivation for purchasing a train set, we hope to have provided a good overview of some of the potential options in this article. With such a variety available, there is going to be a train set to cater for a wide range of tastes and requirements, making it easy to find the best Hornby train set for you.
Be sure to do your research and shop around for the best deals. There are possible bargains to be had on the used market, however (as with all second-hand items), it's potentially a risk. If you're going down this route, be sure to purchase from a reputable seller and ensure the products are genuine items. Inferior quality imports or replicas often pop up - particularly on auction sites. These will almost certainly be a waste of time and money, as they will likely not run correctly or break down after significant use.
If a manufacturer's warranty is important to you, then definitely buy new - either direct from Hornby or an authorised dealer, to give yourself peace of mind should there be a problem.