A train set is the perfect way to make your child's Christmas morning. Whether it's as a beautiful gift, or a stunning decoration traveling around the bottom of the tree. For Christmas 2020 there's a wide selection of quality train sets available to suit a range of bugets.
There's definitely something about train sets (and steam locomotives in general) that evoke feelings of nostalgia, particularly around the holiday season. They often remind people of a time when many would travel long distances to see relatives - usually via steam train.
The rise of electronic gadgets in modern times caused train sets to lose some of their appeal with kids. However, model trains have seen somewhat of a resurgence in recent years, with trains featuring prominently in movies and mainstream media helping to increase their popularity. As a result, train sets look set to be one of the most popular Christmas gifts this year.
So, if you're looking to get a train set under the tree this Christmas, then take a look at these picks for the 2020 holiday season.
Lionel The Polar Express Train Set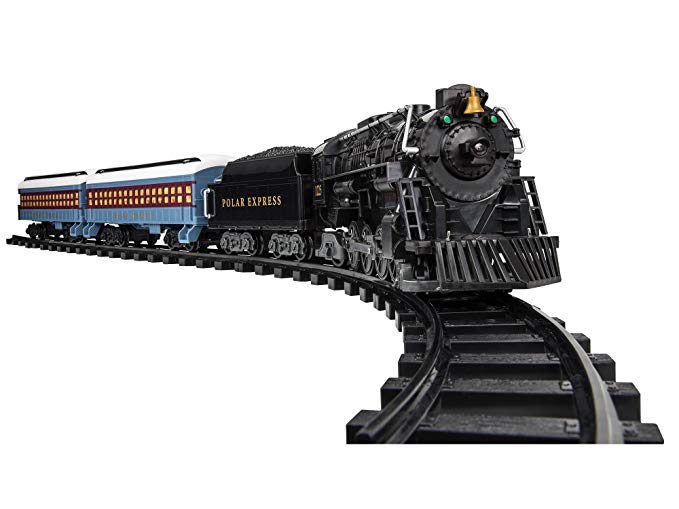 What better way to start this roundup than with a train set produced by Lionel, the company that first produced electric model trains back in the early 1900s.
Their latest festive offering not only looks the part, but sounds great too - with authentic sounds from The Polar Express included. The locomotive features a working headlight, as well as authentic train whistle and bell sounds.
Included in this set is a Berkshire-style steam locomotive, tender, passenger coach, observation car; and plastic track pieces. It runs on three AAA batteries for the controller and six C cell batteries for the train itself. These aren't included in the box, so be sure to pick these up to avoid disappointment on Christmas morning!
This train set is best suited to running around the base of the Christmas tree - the circular layout of the provided track makes this ideal. Younger kids will definitely love this set and instantly recognize the familiar sights and sounds of the iconic Polar Express. Seeing this train trundling around the tree will be sure to make their Christmas morning extra special.
One important point to note is that this set is much larger than other 'standard size' 00 gauge model train sets. This means that you'll need a decent amount of room in which to run this train set. However the excellent level of detail afforded by the larger size is certainly worth it if you have the space.
Hornby Santa's Express Christmas Train Set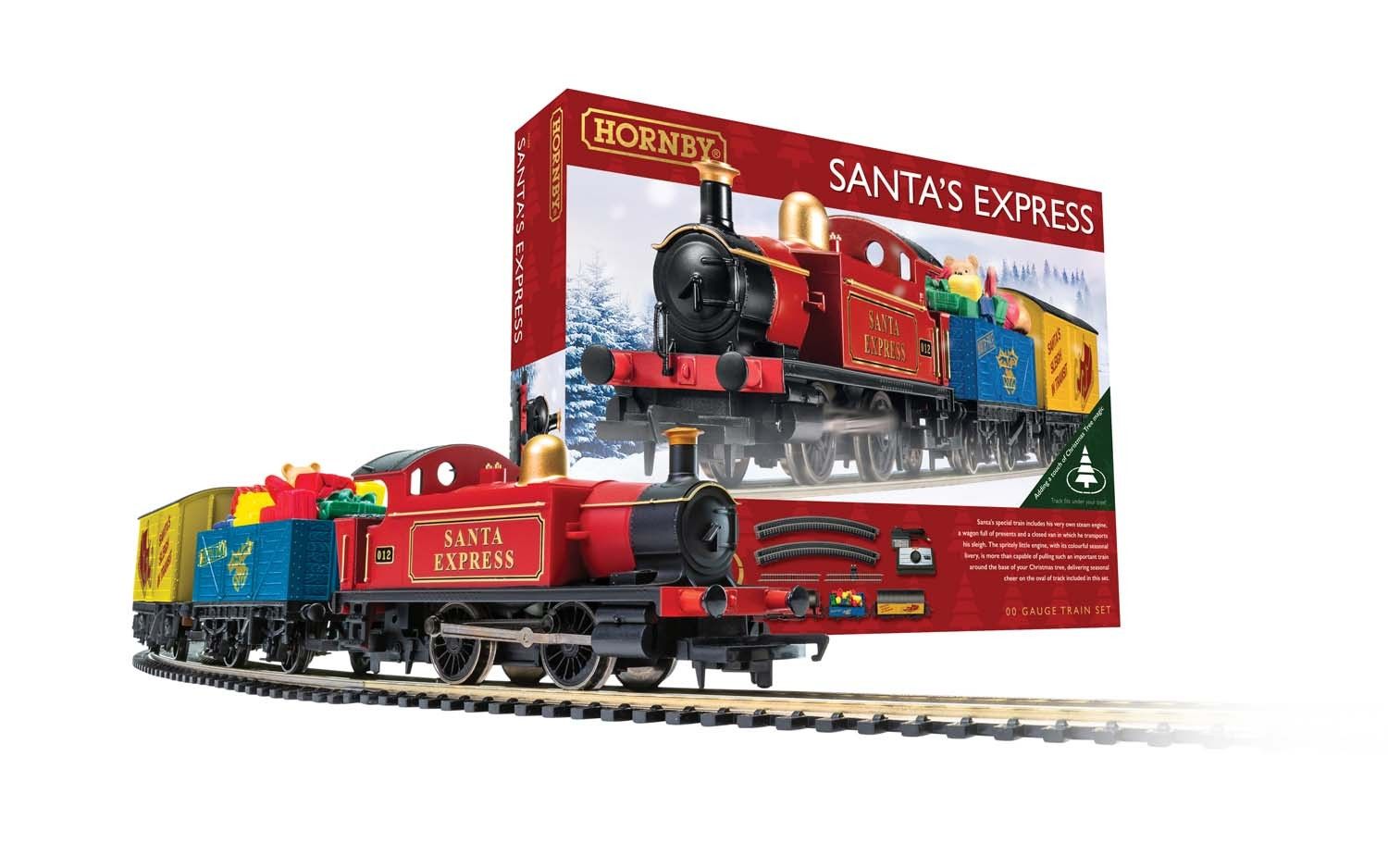 Continuing on with the festive train set theme, we have the Santa's Express Christmas train set from Hornby. Like the Lionel set above, this is designed to run around the base of a Christmas tree.
Hornby have been producing Christmas train sets for many years, and this is of the same high quality we've come to expect. This train set includes a model steam locomotive, two festive wagons; with oval track and controller. It is produced in 00 gauge, meaning this set will be compatible with a huge range of additional trains, track and other equipment. As a result can be easily expanded upon, if desired in the future.
BRIO My First Railway Beginner Pack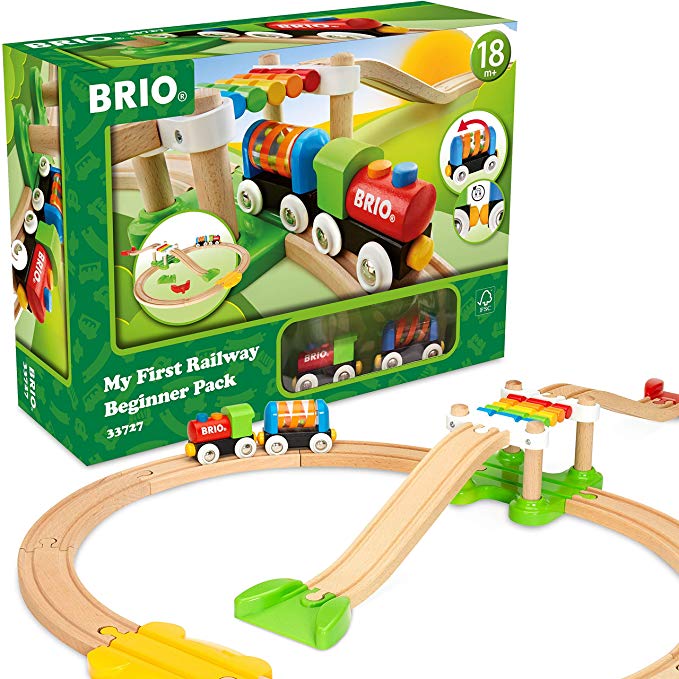 Brio has been producing high quality wooden train sets for many years, and the My First Railway Beginner Set is no exception. This pack, which comes with a train, track, tunnel and ramps, is very easy to put together and take apart - so all sorts of layouts and routes can be constructed. This is an ideal gift for younger kids, aged from 18 months and up.
Thomas & Friends Train Set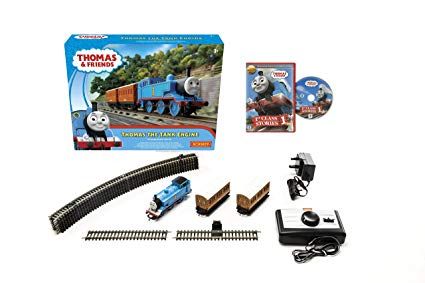 Younger kids are sure to love this train set. Thomas the Tank Engine is instantly recognisable, and can appear even better during Christmas time. The box includes; Thomas the Tank Engine, 2 Annie and Clarabel coaches, track to form an oval, in addition to train controller and transformer.
This train set is also 00 gauge, so like the Hornby set above, is able to be expanded with more track, trains and accessories as and when required.
Hornby Hogwarts Express Train Set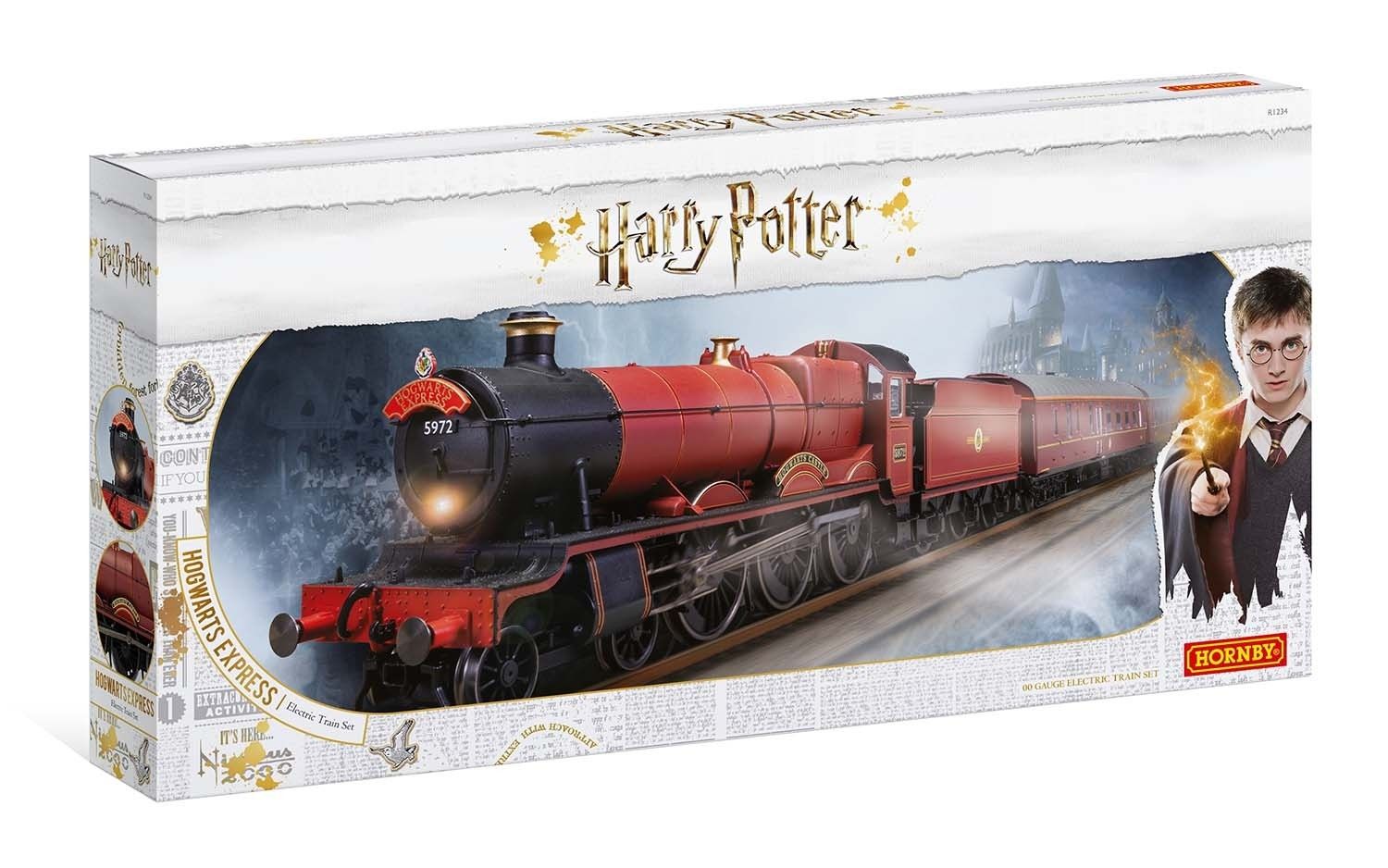 This is a train set that will be a hit with anyone familiar with the Harry Potter films. This train set features the Hogwarts Castle locomotive, 2 carriages, oval track and mat. Due to the wide appeal of the Harry Potter films this set is suitable for any age group. Whilst this set is great at Christmas time, it can also be used as a starter set for anyone looking to start a more serious model railway in the future.
Flying Scotsman Train Set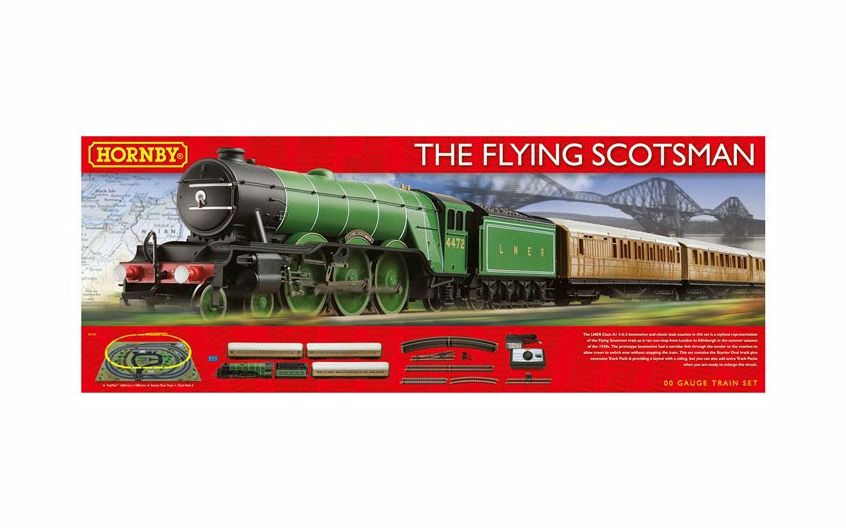 Another good option is the Flying Scotsman Train Set from Hornby. This locomotive needs no introduction and will be familiar to almost everyone, making it a very accessible train set. Included is the 4-6-2 Flying Scotsman locomotive, 3 coaches, track, mat and controller. Not only is this a great train set at Christmas time, it's also a good introductory set for starting a model railway collection.
Train Set for Christmas
That concludes our round up of the best train sets for kids this Christmas. A model train set is the perfect decoration or gift for under the Christmas tree. With such a wide variety of choice available there's certainly a train set for everyone this holiday season 2020.