Trying to find the best wooden train set for your child or classroom? We've evaluated the best quality wood train sets currently on the market so that you're in a better position to make an informed purchasing decision on the most suitable wooden toy train for you.
👉
This guide has been reviewed and updated for 2023.
Choosing a wooden train set might seem straightforward initially, however it's always difficult to get a true feel for different products without experiencing them first hand and actually using them.
To help you solve this problem, we've used our extensive knowledge, expertise, and many years of experience in all things model trains, to help you get the perfect wooden train set first time.
In this detailed guide we'll take a look at the best wooden train sets, organized by brand for ease of navigation, and use our real-world experience to discuss the benefits of each. This article is one of many in our train set series, where you'll find our expert advice and recommendations for everything from the Best Hornby Train Set to the differences between DC and DCC model trains.
The Best Wooden Train Set Brands
This guide was last updated in April 2023.
Below, we'll take a look at the best wooden train sets that are of a good high quality, and offer fantastic play value for children. This guide focuses on the top brands for train sets including: Brio, Bigjigs, Thomas, Hape, KidKraft and Orbrium. Here's our top picks for your next wood train set.
Brio Wooden Train Sets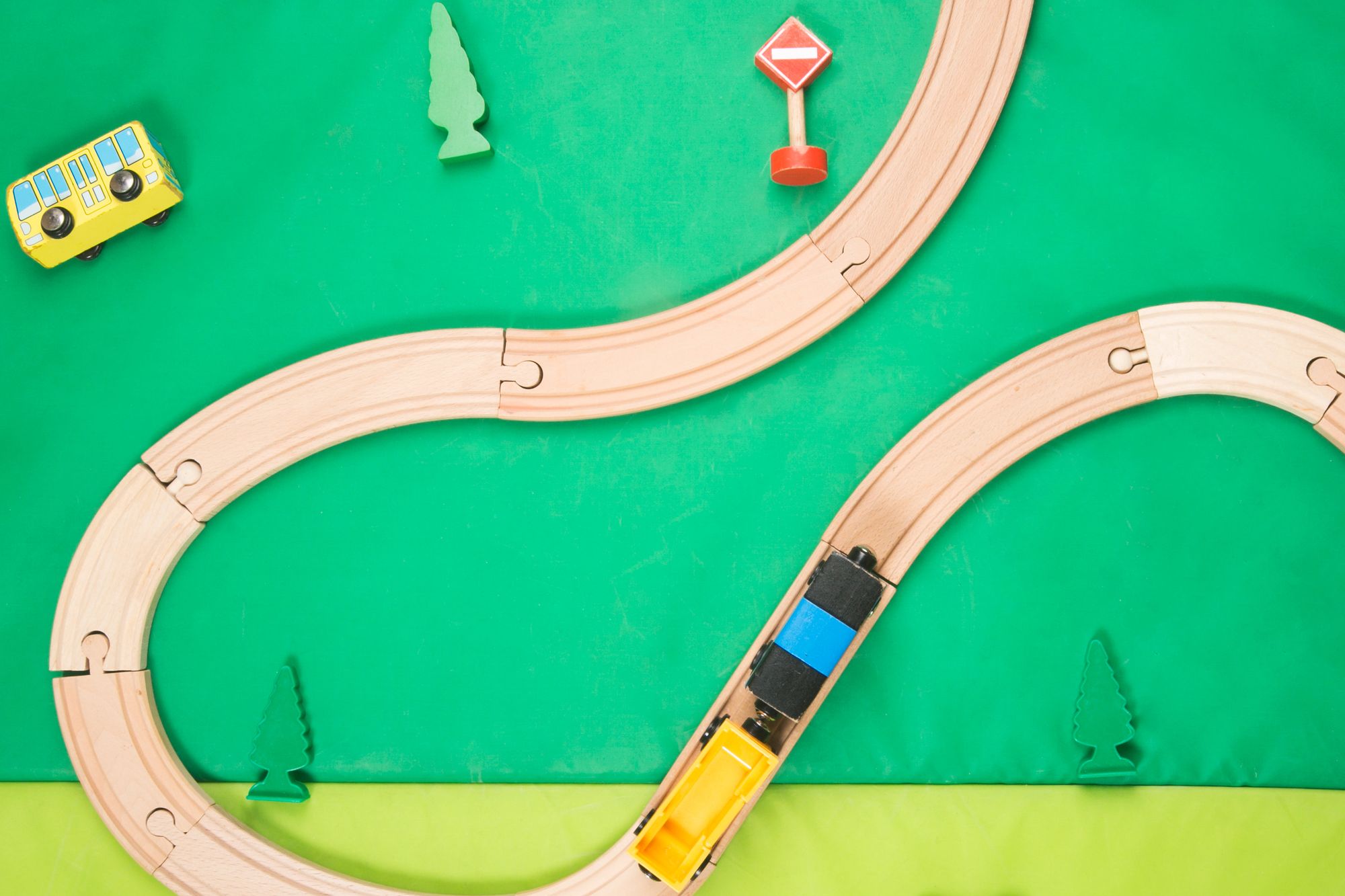 For the best build quality and some of the highest play value wooden trains available, BRIO is the leading brand. They have a long history of producing high quality wooden train sets over many years. We've even come across some Brio Train Sets that are decades old, and are still going strong!
BRIO has also been able to modernize their more recent offerings, in terms of materials, style and design, whilst staying true to their longstanding reputation for high quality and effective layouts.
Most modern BRIO train sets feature trains that are now made predominantly of plastic. However, don't let that put you off - the plastic is very heavy duty and of an extremely high quality. (Think of it as being similar to Lego in terms of build quality and durability). There's also a line of BRIO Classic Railway wooden train sets that are more similar to what many people will remember of BRIO trains from their childhood. These are made of high quality wood components, including the locomotives and trains, for the classic/retro BRIO appearance that many are familiar with.
Choosing either a modern or a classic BRIO train set is a good choice and you'll undoubtedly be getting excellent value for money. BRIO have been the market leader for wooden train sets over many decades and are renowned for setting the standard with their quality and design. Other wooden train brands are almost always compatible with BRIO train sets.
It may first appear that BRIO train sets are expensive. However, we would have no hesitation in recommending a BRIO train set. Having spent a considerable amount of time with these wooden train sets over the years, we can attest to their quality and durability. As the saying goes, you get what you pay for. A BRIO train set will last for many years - maybe even decades. This is why in the past we've been happy to pay more for a BRIO train set. The quality, durability, and playability that you get from BRIO is second to none.
BRIO Deluxe Train Sets
This may be one of the more expensive train sets included in this guide, but if you're seeking a wooden train set with plenty of variety, excellent durability, and enough playability to last several generations, the BRIO Deluxe Railway Set is the perfect product for this purpose. It includes a full passenger and freight train set up, with plenty of variety and things to do. It also includes a very useful storage box.
Another option is the slightly smaller BRIO Deluxe Cargo Train Set. As suggested by the name, this train set is more geared towards freight trains. Included are three cranes - including a gantry crane and a battery powered crane.
There's also the BRIO World Railway Deluxe Train Set which is the biggest and best BRIO deluxe train set yet. This set contains over 100 different parts, including both a large and a small station, an airport, a ferry, farm and lots more.
These three BRIO wooden deluxe train sets are certainly well worth the money and each one has its own distinct personality and feel.
BRIO Classic Train Sets
If you're looking for a wooden train set that has a more 'classic' look and features trains that are made out of wood, then the BRIO Classic Train Sets are an excellent choice. The most popular options are the BRIO Classic Figure of 8 Train Set or the BRIO Classic Deluxe Train Set or the BRIO Classic Little Forest Train Set. These sets all feature high quality wooden trains painted in the classic BRIO livery, along with high quality track and accessories.
BRIO My First Railway Train Sets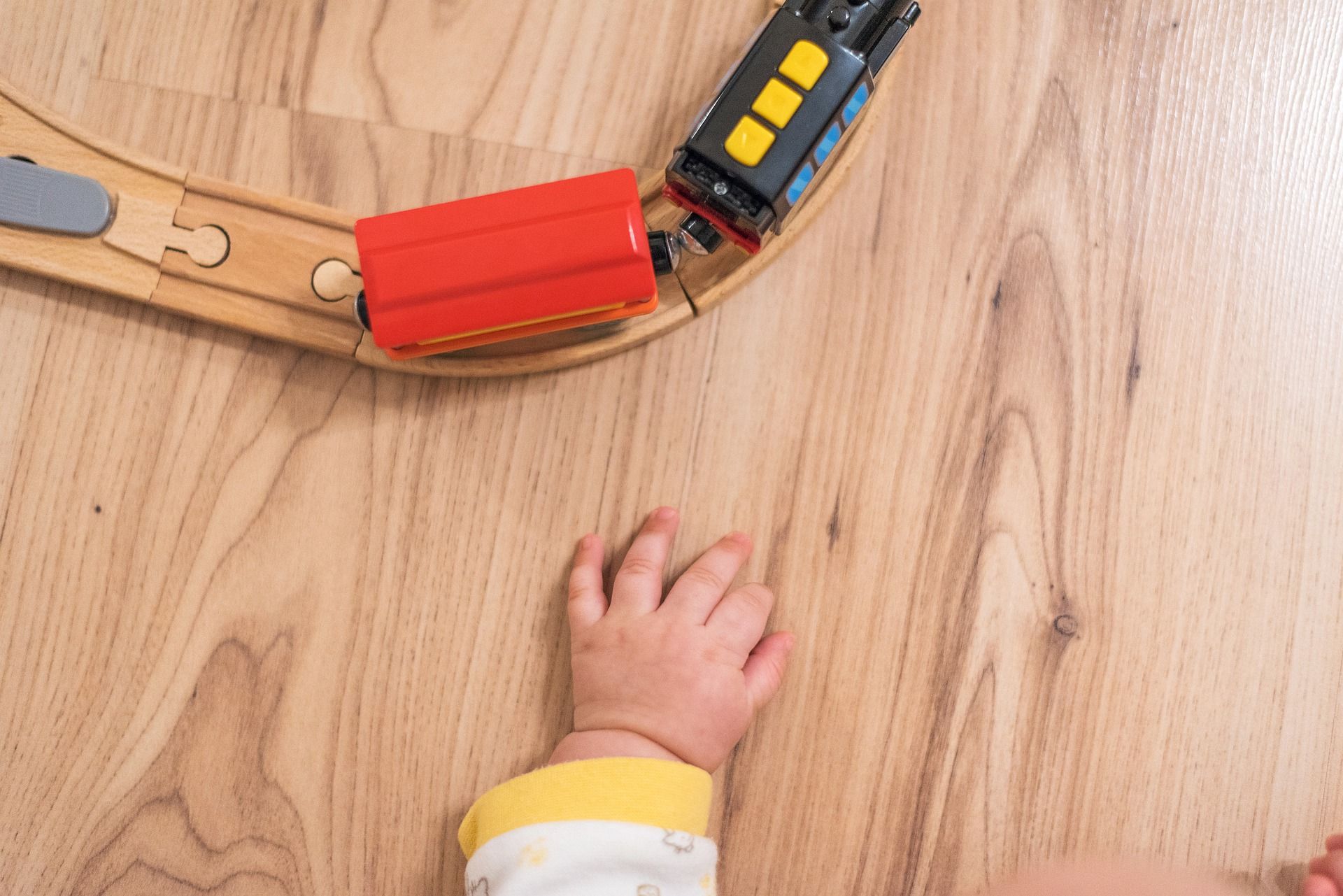 The majority of wooden train sets come with a minimum age recommendation of 3 years and up for safety reasons, due to the presence of small parts and choking hazards etc. However, BRIO has come up with a range of My First Railway Train Sets for kids as young as 18 months old.
At Model Railway Line we recommend the BRIO My First Railway Beginner Train Set as it's an ideal first train set for a toddler, it has a high play value as the train layouts have plenty of options - robust plastic ramps, buildable arches and spinable freight wagons allow for plenty of variety. It's also compatible with all other BRIO sets, track and accessories meaning it can be easily expanded, if desired.
These sets are extremely well designed with younger children specifically in mind. As with their other offerings for older children, these sets have the same high build quality we associate with BRIO. They have some very innovative design features to ensure that these products are extremely safe for younger children. The trains themselves are very robust and the magnetic couplings are encased in secure plastic covers preventing them from being prised off or shattering into small pieces.
In addition to the very welcome safety features a My First Railway Train Set is extremely well thought out in terms of the fun interactive aspects that small toddlers are sure to enjoy. These wooden train sets feature couplers that are reversible, meaning the polarity of the magnets can be flipped - allowing the locomotives and carriages to be coupled together no matter the direction they're facing. This can be useful in reducing the frustration level for younger children compared with more traditional wooden train set magnets that are of a fixed polarity.
As well as the Beginners Train Set, there's also a few other offerings from BRIO that are well worth considering. The BRIO My First Railway Battery Operated Train Set is a great option that extends the functionality of more traditional beginner train sets by including a battery operated model train. This set includes a motorized locomotive that moves forward and a freight wagon with a reel that moves as the train travels along the track.
BRIO Transport and Freight Train Sets
Traditional starter train sets usually feature a simple oval or figure of eight track layout along with a locomotive, a couple of carriages or wagons, and some accessories (e.g. animals, trees, or people). This is where the BRIO World Railway Starter Train Set represents excellent value in terms of price, size of the layout and the features included. It's certainly a brilliant starter train set when compared to similar alternatives on the market. This set features a figure of eight track layout, a tunnel that allows trains to drive over and under it as they travel along the track, a passenger train and some figures of the driver and passengers. Another advantage of this train set is that it's incredibly easy to expand - with the BRIO World Starter Track Pack integrating seamlessly, allowing you to  create a larger and more varied track layout.
The BRIO Travel Switching Train Set is another train set that comes highly recommended. It includes two passenger trains, a station, a bridge, and figures of the drivers and passengers.
Other options are the BRIO Harbour Cargo Train Set which includes a ship, a crane and a liftable harbour bridge. The BRIO World Metro Train Set which includes a train in the style of the London Underground, a tunnel, a station with a door that opens and closes, and passenger figures. The BRIO World Rail and Road Loading Train Set which features a level crossing with operational barriers, two road trucks, and a train with a magnetic crane.
The advantage of all of these options is that they're fully compatible with other BRIO train sets - so you can effortlessly combine different components from multiple wooden train sets to create great variety and make some interesting track layouts.
Themed BRIO Train Sets
BRIO also offer a range of themed train sets that integrate other elements which are great for kids who have other interests besides trains. For those that love farms and animials there's the very popular BRIO World Farm Animal Train Set or the BRIO Safari Train Set.
For the budding firefighter there's the BRIO World Fire and Rescue Train Set and for kids that love construction and building the BRIO Lift and Load Warehouse Train Set is an excellent choice.
Bigjigs Wooden Train Sets
One of the other great wooden train manufacturers are Bigjigs. Whilst the build quality is not quite as good as Brio, it's certainly comparable and they are often much more affordable. A big advantage of Bigjigs wooden train sets are that they're fully compatible with other brands including Brio. So you can easily mix-and-match track, trains and accessories from different manufacturers to create some awesome track layouts and play scenarios.
Bigjigs have quite a wide range of varied train sets in their range. The My First Train Set is one of the most affordable options for a quality beginners train set on the market. This is a twenty piece set including some track that makes a circle layout, a passenger train, two houses, and some passenger figures.
For a larger and more comprehensive wood train set check out either the Bigjigs Freight Wooden Train Set or the Bigjigs Transport Wooden Train Set. These are both great options to consider and they have excellent play value with lots of things to do.
Themed Bigjigs Train Sets
In addition to these train sets, Bigjigs also have a number of themed options that each have their own unique character. For young animal-loving train enthusiasts there's the Bigjigs Dinosaur Wooden Train Set and the Bigjigs Farm Animals Wooden Train Set - both are good options. There's also the Bigjigs Wooden Pirate Train Set for any young pirates! For those kids that love the Flying Scotsman be sure to to check out the excellent Bigjigs Rail Heritage Collection Flying Scotsman Train Set.
Bigjigs also has some excellent accessory packs that are available to expand their wooden train sets as well as those from compatible brands such as Brio. One of the best selling expansion packs for Bigjigs is the High Level Train Expansion Pack which is a twenty seven piece set that adds multi-level track. For the budding firefighter there's the Bigjigs Fire and Sea Rescue Wooden Toys and for any kids that love boats the Bigjigs Rail Shipping Container Yard and the Bigjigs Coal Canal Docks accessories are quality additions to any wooden train set layout. These expansion packs and accessories really set off an existing train set and provide a lot of additional play value - they're certainly well worth purchasing.
Bigjigs Wooden Train Sets for Girls
Another great thing about Bigjigs is that they have options specifically catered towards girls. The Bigjigs Fairy Town Train Set is a great choice and features a passenger train, bridge, houses and engine shed painted in a great pink and purple colour scheme. All with the same high quality as their other offerings. For a more basic set consider the Bigjigs Wooden Fairy Figure of Eight Train Set which is a great starter train set for girls and includes a passenger train, houses, and figures in the pink and purple colour scheme.
If you're looking for one of the best train sets for girls which also includes a fantastic train table then the Bigjigs Magical Train Table Set is an awesome option. It features a pink train set table, passenger train, a tunnel, a bridge and some fairy and animal figures.
If you're looking for an additional train to go with any of these sets, then the Bigjigs Rail Princess Train is available and integrates with these wooden train sets seamlessly.
Thomas Wooden Railway Sets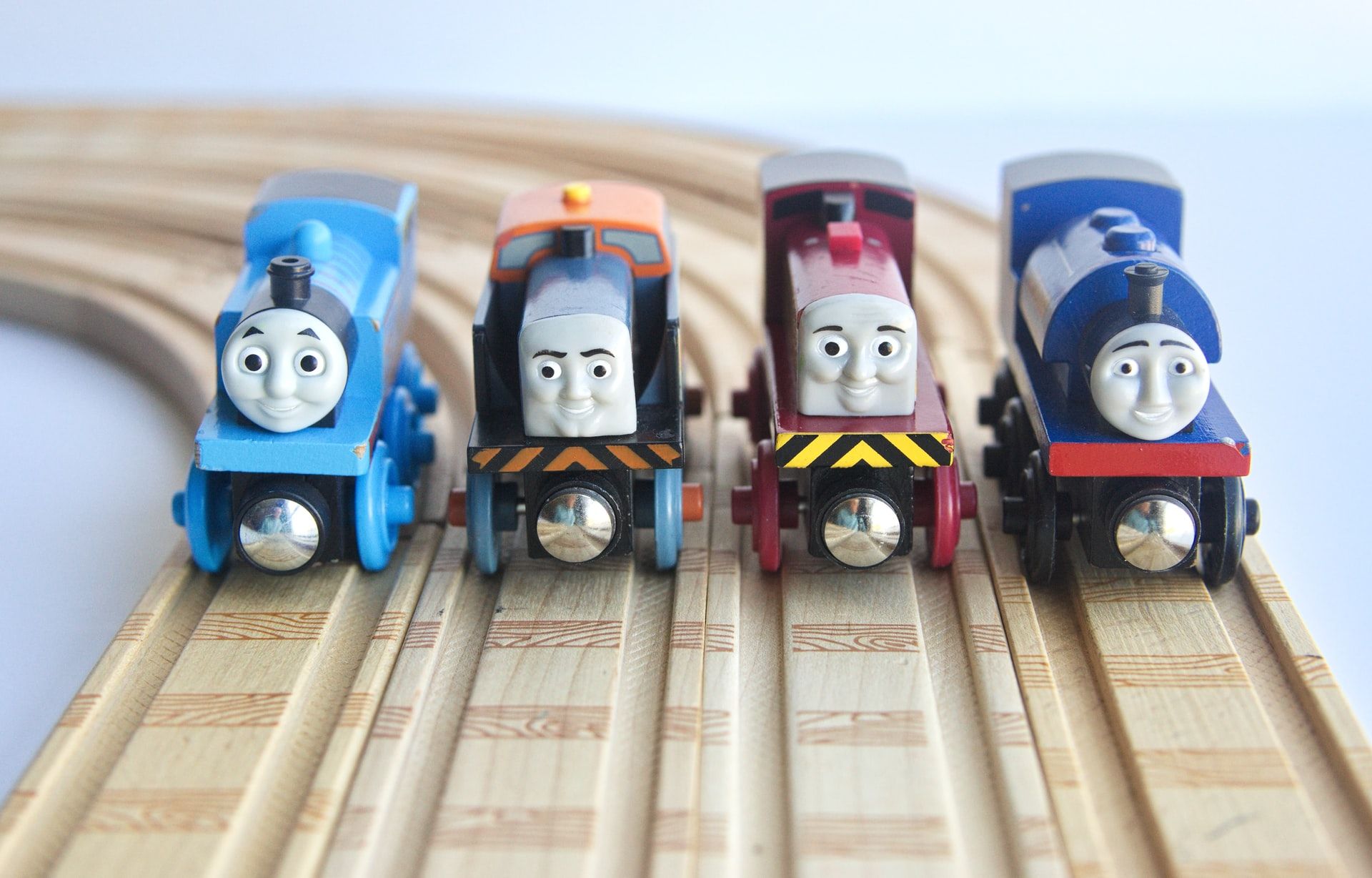 Historically, Thomas Wooden Railway sets have been a firm favourite of many, with the iconic and vibrant coloured locomotives being a key part of many kids childhoods. However, the quality of these sets has significantly declined in recent years, with an increasing amount of cheap plastic being used in these train sets.
Wooden Thomas sets are now getting increasingly difficult to find - with the original Thomas Wooden Railway sets no longer being produced. The best way to find these is searching for 'Thomas wooden train set' on eBay and you might be able to pick one up in good condition for a decent price.
They do have the Thomas and Friends Wood Starter Set, which is a decent quality starter train set - however, in our opinion, there are better alternatives covered elsewhere in this guide.
Two of the most popular Thomas Train Sets are the Trains & Cranes Super Tower Set which is a multi-level tower train set with a series of cranes - and the Talking Thomas and Percy Train Set which features motorized Thomas and Percy engines and several classic Island of Sodor locations. Both these sets are made of plastic - they may be rather out of place in a guide dedicated to the best wooden train sets, however we think that they're worth including as they're well reviewed and do offer lots of fun. However, these sets will not integrate with wooden track which is a considerable drawback if you've already got a selection of wood trains. We generally recommend purchasing a wooden train set for this reason - most brands are compatible with each other, meaning it's easy to interchange different track and create interesting layouts.
Hape Wooden Train Sets
Hape are probably one of the more lesser-known wooden train brands on the market - certainly compared to the established names like Brio. However, they do have some interesting and unique options when it comes to wooden train sets. The Hape Busy City Train Rail Set is one of their most highly rated products. It features two trains, a crane with a magnet, a level crossing, a station, a bridge and some accessories, which all provide plenty of play value and variety. However, we think that the roof of the station is very 'plasticy' looking which somewhat takes away from the rest of the set. This isn't a huge problem though - you're still getting lots of value with this set.
For something a bit different and of higher build quality, we recommend the Hape Grand City Station Set which has a very distinctive and well thought-out centrepiece station building. It has quite an innovative track layout, with tracks branching off around the station building, as well as an additional upper-level station platform - which is something we don't often see in other train sets. We think it's excellent. The set is also fully compatible with Hape's other offerings, as well as those from BRIO and Bigjigs.
We also like the Hape Mining Loader Wooden Train Set which features two trains with two coal wagons each, a crane, a coal hopper and coal blocks, as well as some accessories, like a signal and trees. Very few train sets currently on the market include anything resembling a water tower or coal hopper - which seems strange given that these are essential destinations for steam trains! So this is definitely one of the great unique points of this train set. The magnetic lifting crane is another good feature, which allows the coal blocks to be transferred into the hoppers, providing great interactivity and play value.
Hape Mighty Mountain Train Set
One of Hape's most popular toys for kids is the Mighty Mountain Train Set, which is an award winning train set in the theme of a mountain mine. The set has a unique multi-level design and includes a waterfall tunnel, a realistic boom crane, an obstacle bridge, a conveyor belt and a repair station. We think this is a really neat set that provides a lot of variety at playtime. It's one of the more expensive train sets in this guide, however you do get a lot for your money - it's a big set with plenty to do, so the kids will never be bored! The age recommendation for this train set is three years old and above.
Hape Wooden Trains for Toddlers and Younger Children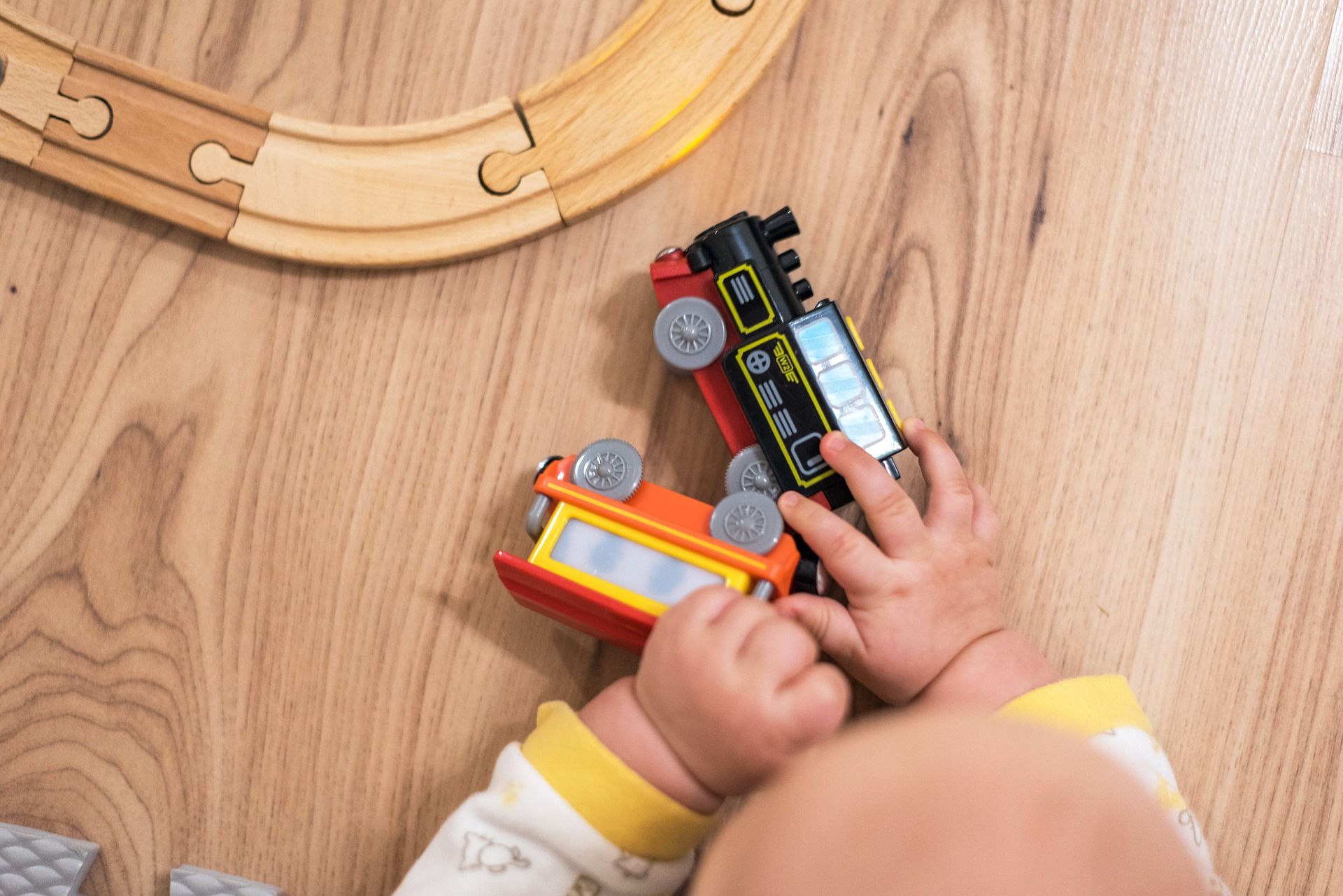 Hape has a number of train sets that are aimed more towards younger children and toddlers. Hape really do seem to have the edge over BRIO and Bigjigs when it comes to the 'fun factor' for this age range.
We would recommend the Hape Rainbow Puzzle Railway as it's one of the best train sets for toddlers and younger children. This set includes 'standard' toddler toys, such as a xylophone, a puzzle and a bead maze, and incoporates these really well into the overall train set. This makes for a great play experience for toddlers and small children. Another great plus point for this set is that it has a beautiful multicoloured colour scheme, with the wooden track pieces being painted either red, blue, green or yellow. You don't often see that on wooden train sets, so Hape have done well here. In addition, the wood that they use is treated and sealed, so any spills or mishaps are more easily dealt with than with similar train sets from other brands. If this set is not available for purchase, an alternative would be the Hape Sights and Sounds Railway Set which is very similar.
Another great option for younger kids would be the Undersea Figure 8 Wooden Train Set which is a lovely set combining the world of sea-creatures and trains. This set has a nice turquoise colour scheme, so would be equally suitable for both girls and boys. The centre 'pool', that the train drives over, features a really innovative use of magnets that cause the fish to be attracted to the engine as it travels along! We think it's excellent - and it's often simple features like this that really make a toy stand out.
KidKraft Wooden Train Sets
KidKraft also has a number of interesting wooden train sets. These are well reviewed and the track is fully compatibile with BRIO and other major brands. The Bucket Top Construction Train Set includes a train, bulldozer, a crane, and accessories. The lid of the storage box also doubles as part of the track layout, which is a nice feature. If you're looking for a larger train set that also includes a play table, we would recommend the Waterfall Mountain Wooden Train Set. The table has a sturdy construction and we like that the set includes numerous accessories, which really helps to add value to the playtime experience.
Orbrium Wooden Trains
Orbrium are another wooden train set brand that has a couple of interesting offerings. The 52 Piece Deluxe Wooden Train Set is a very well-reviewed product that's compatible with most other toy train brands. This train set is very engaging to play and features a bridge, level crossing, a diesel train, and some passenger and building figures. We like the fact that the container box doubles-up as a tunnel - which is a great feature. The set can easily be expanded using the Orbrium Multi-Level Wooden Train Track Expansion Pack which provides an additional 110 pieces to easily expand the set and create some great wooden track layouts.
The type of wood used by Orbrium does seem to be of a good quality, and the sets are compatible with the leading brands, such as BRIO. However, we do have a word of warning with regard to the quality control - some of the edges and joins on the expansion pack that we tested did have a few splinters and rough patches on the cuts. If you go for a Orbrium train or track expansion set (or any other budget train set brand for that matter) it's a good idea to go over it with some sandpaper before giving the set to the kids to play with, to ensure any rough edges or splinters are taken out.
Wooden Train Set Brands Compatible with BRIO and Others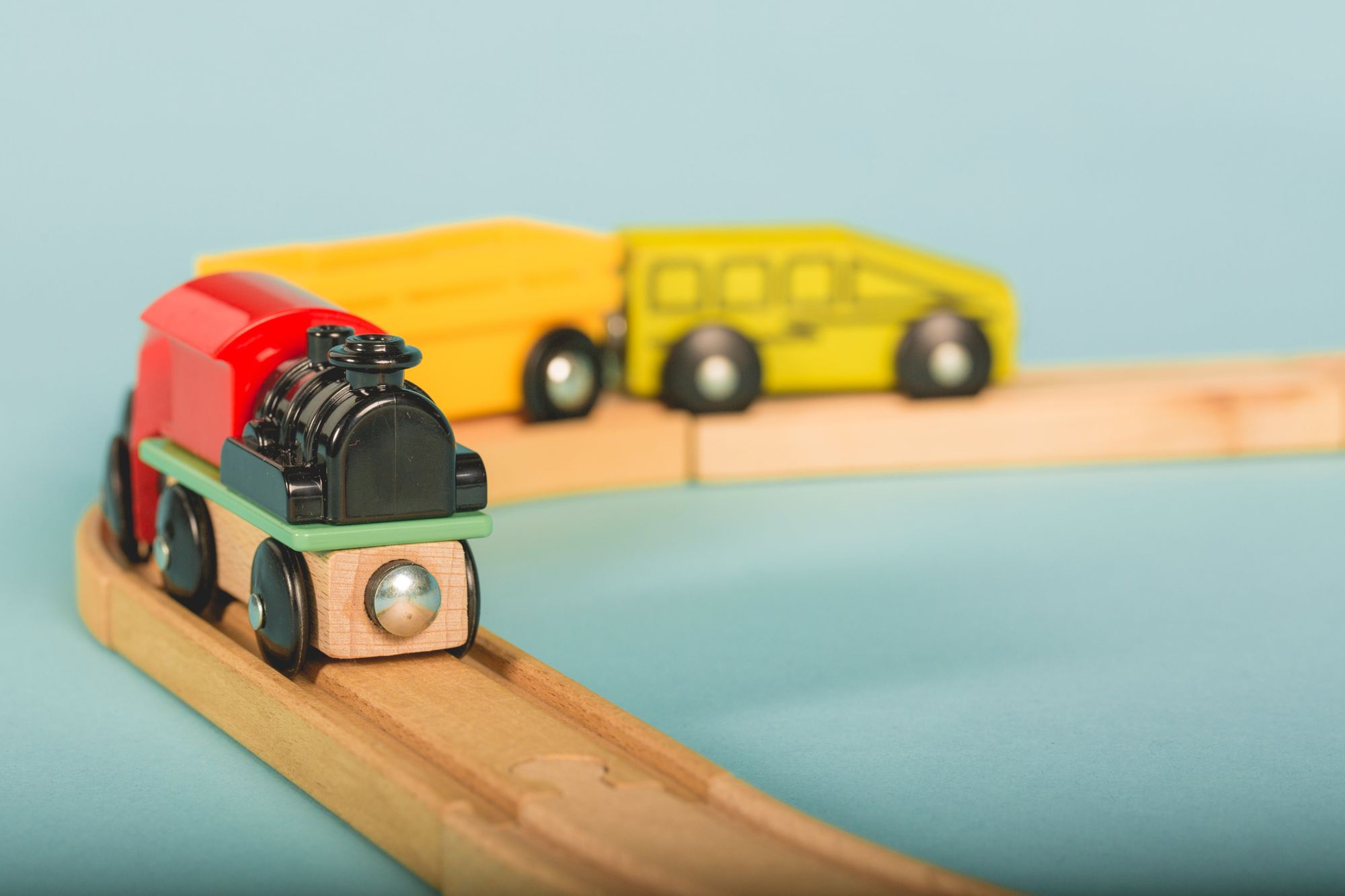 There are also a number of other manufacturers that produce wooden train sets specifically designed to be compatible with the leading brands, such as BRIO. This allows easy integration with your existing train set and often provides a cost effective way of expanding your collection of toy trains. However, as mentioned with Orbrium above, we do have to caution on the quality control of some of these cheaper train sets. There are sometimes issues with the quality of finish, and in particular, the quality of woods used. Cheaper woods tend to splinter or distort over time, which may be an issue if the quality control is substandard. We recommend sticking to BRIO train sets if having the best quality toys is important to you.
Here's some of the best alternative wooden train sets: