When the Holiday season comes around and the festive time of year fast approaches attention inevitably turns to decorating the Christmas tree.
Many people choose to have a toy train running around the base of their tree, which really sets off their festive decorations and compliments their other Christmas ornaments nicely.
The tradition of running trains around Christmas trees dates back many years and has proved to be a popular modern festive tradition in countless households in recent times.
In this guide we'll take a look at the origins of why people put a train around a Christmas tree and give some recommendations for the best train sets to use for this purpose, as well as for the Holidays in general.
Let's start this guide to train sets for under the Christmas tree by having a look at some of the history behind this tradition and why model trains and the festive season go so well together.
Why do people put a train around a Christmas tree?
Many people decorate their Christmas tree with a festive train set that runs around the base. This has become a popular yuletide tradition in many countries around the world. But how did this tradition start and why do we put trains around the Christmas tree?
Well, the simple answer is that nobody can say with 100% certainty the precise origin of this custom. Many railroad historians believe that the tradition dates back more than 100 years to the early 1900s - right around the time that manufacturer Lionel started producing toy trains.
During this time it's believed that Lionel persuaded the big US department stores to include toy trains in their Christmas displays. This resulted in their train sets being run around the Christmas trees in these stores. It certainly proved to be an astute marketing ploy as the Lionel brand gained a great deal of exposure and the custom has developed into the tradition we know today.
Toy trains have also been a popular Christmas present for many years and children usually open their presents under the tree. Therefore, at the base of a Christmas tree is the natural place for kids to put their train sets.
Let's take a look at some of the best train sets that are perfect for running under a Christmas tree.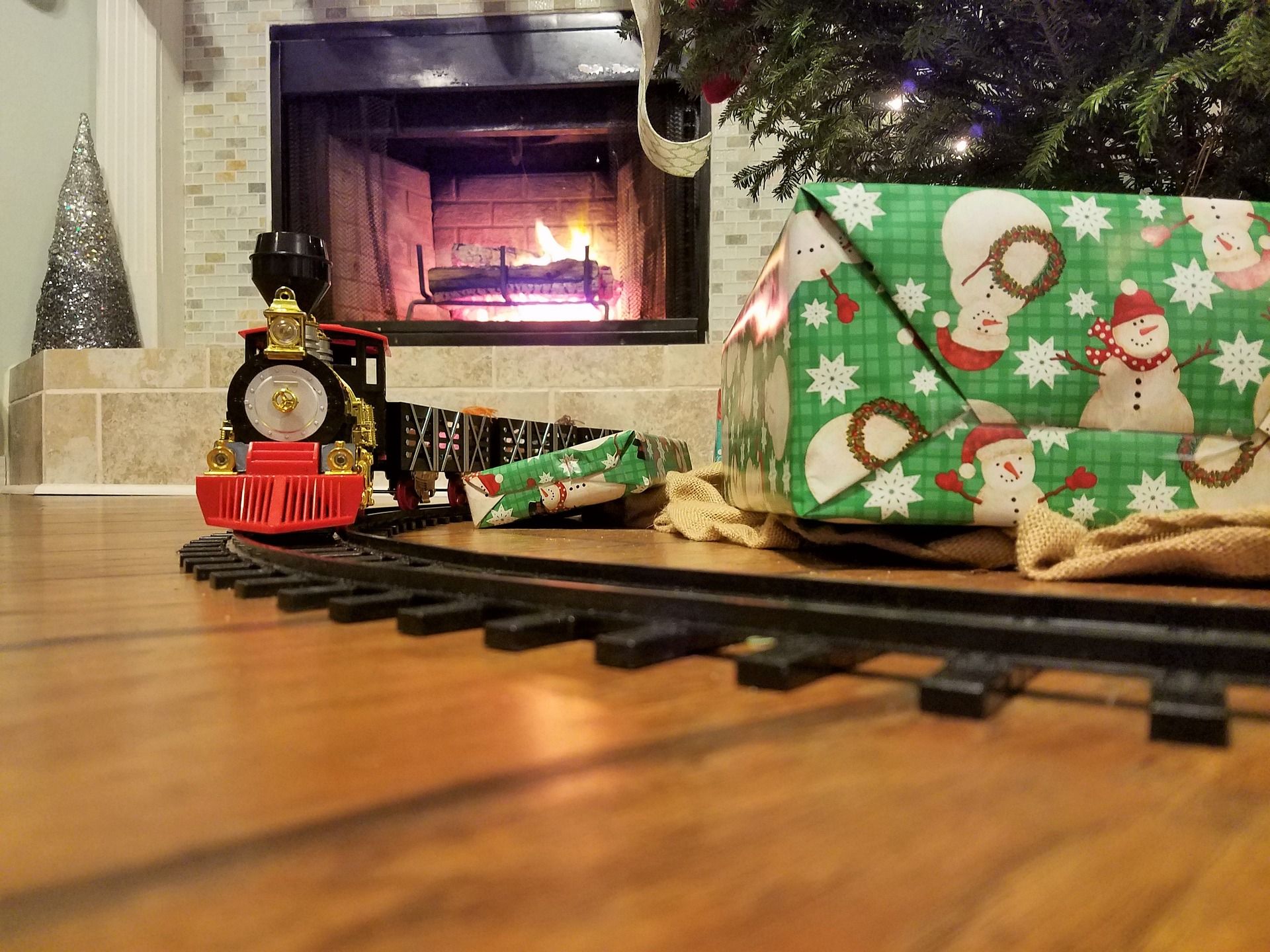 ---
Best train set for under the Christmas tree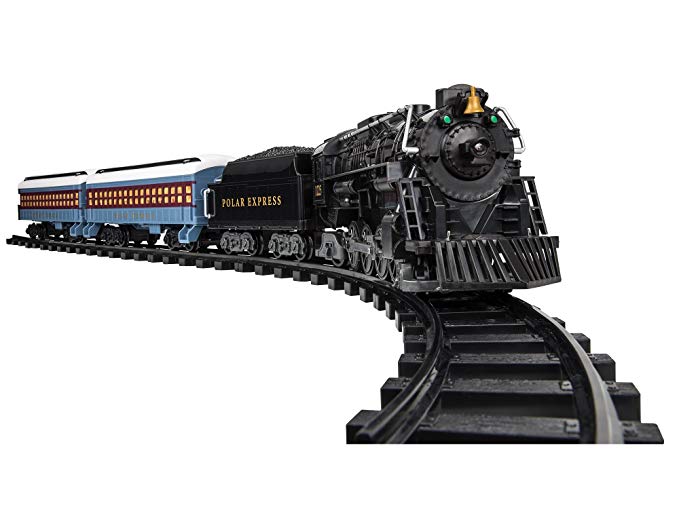 Lionel The Polar Express Train Set
The best train set to run around the base of the Christmas tree.
More Info
The Lionel Polar Express is the best train set to put around a Christmas tree due to its high level of detail and durability. It's reliable and will last for many years if looked after. It's also easy to store, which is great for when it comes to packing the decorations away.
This train set includes the Polar Express 2-8-4 locomotive and tender, 2 cars, 4 movie figures, power supply and oval track.
The locomotive and rolling stock is highly detailed and it even has Bluetooth technology - meaning it can be controlled from a smartphone or other capable device.
It's a festive hit that's great for the Holiday season as it nicely compliments other Christmas decorations in addition to the tree itself.
Best budget Christmas tree train set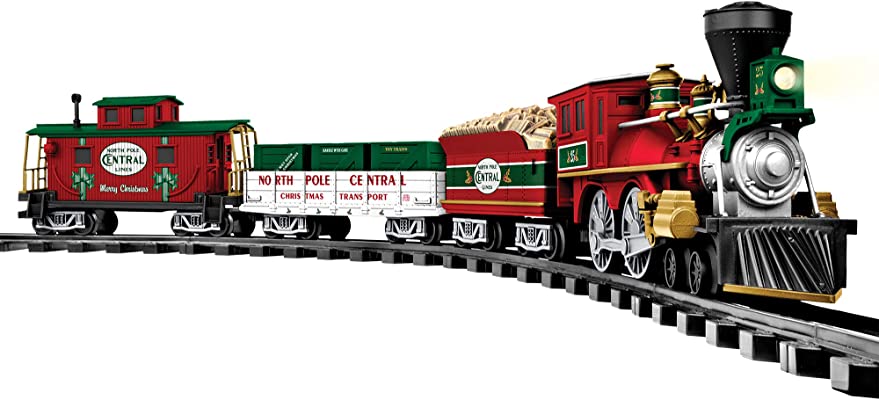 Lionel Christmas Train Set
The best budget Christmas tree train set.
More Info
The Lionel Christmas Train Set is the best budget option if you're looking for a train set to run around the Christmas tree.
This set includes a brightly-colored locomotive that's battery operated and features authentic train sounds and announcements, including a bell and whistle. The train even has a working headlight, which is a very welcome feature.
It's certainly a great budget option. However, the Lionel Polar Express train set would be the better option for most people. It's better value for money due to the increased level of detail and build quality and it includes the more recognizable Polar Express livery.
Coca Cola Christmas train set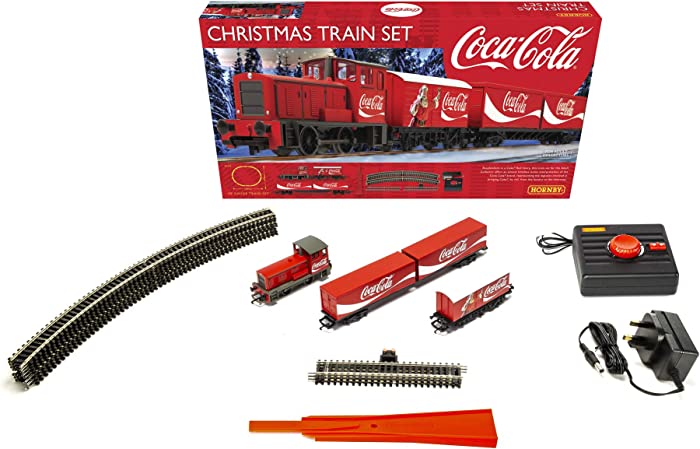 Coca Cola Christmas Train Set
A quality Christmas train set from Hornby featuring the iconic Coca Cola livery.
More Info
Another great option for a Christmas tree train set is the Hornby Coca Cola Christmas train set. This has proven to be very popular, particularly with families that have younger children, due to the bright colors of the Coca Cola locomotive and cars being more relatable and festive.
This train set is simple to setup and operate and looks great running around the Christmas tree. The Coca Cola livery is also very smart and has become synonymous with the Holiday season.
The track in this set is also compatible with other Hornby trains, meaning you can add additional track sections to create more complex designs around the Christmas tree, rather than a basic oval shape.
Flying Scotsman Christmas train set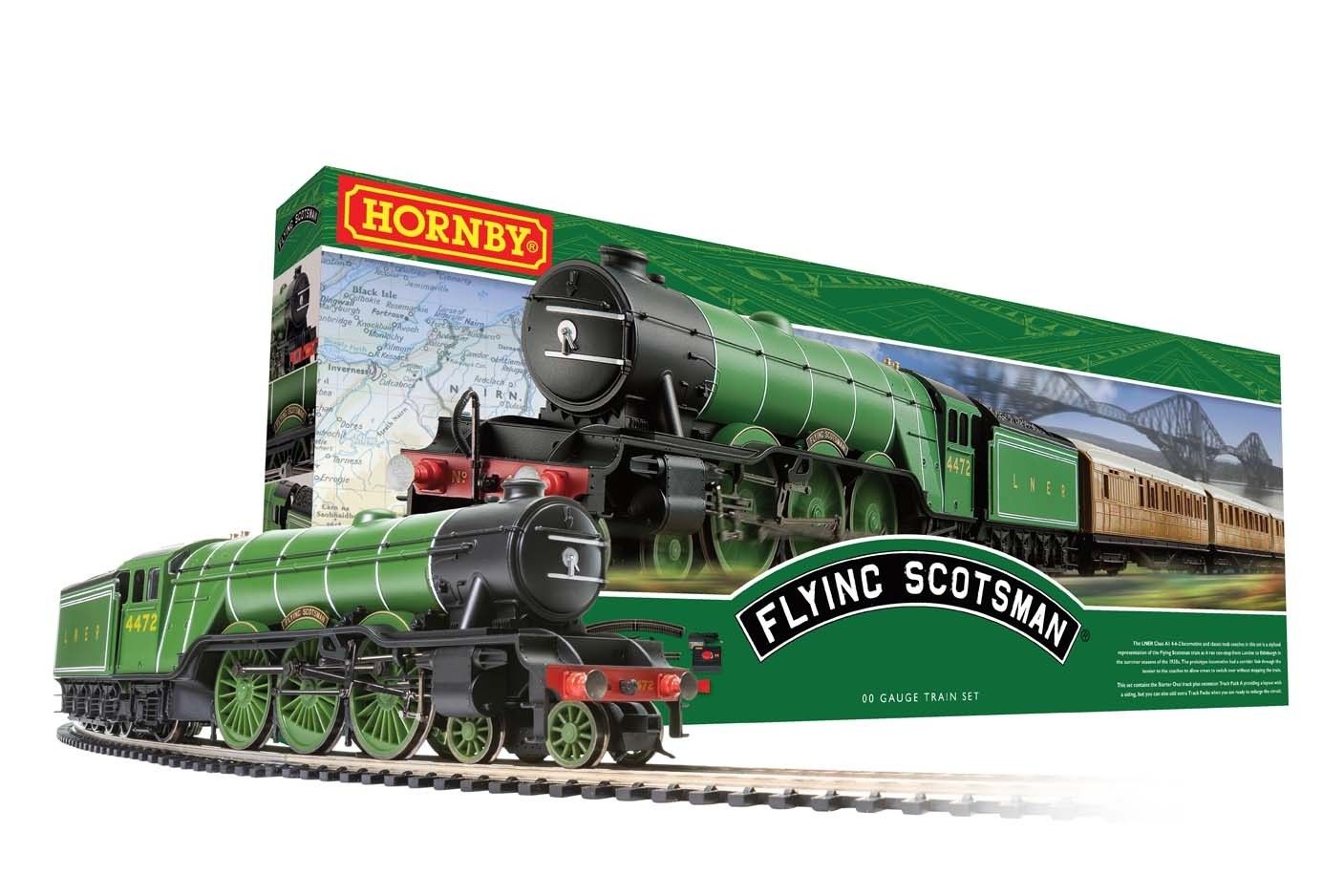 Hornby Flying Scotsman Train Set
More Info
Another potential option for a train set that runs around the Christmas tree is the Hornby Flying Scotsman train set.
This set features the iconic Flying Scotsman locomotive and track that can be made into an oval - perfect for running around the Christmas tree.
The advantage of this set is that it's compatible with other Hornby train sets and track - so it can be used with your other trains when it's not running around the tree during the Holidays. It's also a great beginner train set so is perfect as a Christmas gift as well.
This is certainly a great option due to its versatility, however if you're looking for a more festive train set the Lionel Polar Express would be the better choice.
---
Processing your application Please check your inbox and click the link to confirm your subscription. There was an error sending the email
---
Can you put a Christmas train set on carpet?
When putting a model train under the Christmas tree it's important to consider the surface that it'll be running on.
It's usually preferable for train sets to run on a smooth flat surface - so wooden or laminate flooring is ideal.
However, it's also possible for Christmas train sets to run on carpet. This will likely depend on the type of carpet and the material that's used, in addition to the thickness.
Try to avoid running train sets directly on thick carpets as these will likely interfere with the operation of the trains and hinder their movement around the tracks.
For the best results, it's advisable to put down a mat or some laminate beforehand in order to minimize any potential reliability issues with your trains and to give a smooth flat surface for the model trains to run on.
Christmas tree train sets summary
Many people put a train set around the Christmas tree as it's an established tradition for the Holidays and complements other festive decorations.
The custom is believed to originate from the early 1900s when manufacturer Lionel started producing their first train sets.
The best train set for running around the base of a Christmas tree is the Lionel Polar Express due to its high build quality and reliability. It also features the iconic festive Polar Express livery, which is great for the Holidays.
For a more generic and versatile train set that can still maintain a Christmas theme the Hornby Flying Scotsman is the recommended option due to its value for money and compatibility with other Hornby products.
In addition to Christmas train sets, we also have guides for the best model trains in a number of other categories. Be sure to check that out - it's essential reading if you're considering purchasing a new train set.