If your model trains are suffering from inconsistent, slow or unreliable running - or simply won't start at all - then one of the problems could be a build up of dust or grime on the wheels.
Dirty wheels are one of the most common causes of running issues with train sets and is a problem that affects many railroaders and their model train layouts.
Fortunately, it's usually relatively simple to fix this issue and restore smooth running to your model railroad.
In this guide we'll cover the most effective methods that you can use to clean model train wheels.
What is the best way to clean model train wheels?
The most effective way to remove slight dirt build up is to apply some Isopropyl Alcohol to the model train wheels using a paper towel. This should pick up any minor pieces of dust or dirt fairly quickly.
However, for more substantial dirt and grime deposits - or if the locomotive hasn't been used or cleaned for an extended period of time - it's recommended to use a Märklin Trix Cleaning Brush to shift any stubborn dirt.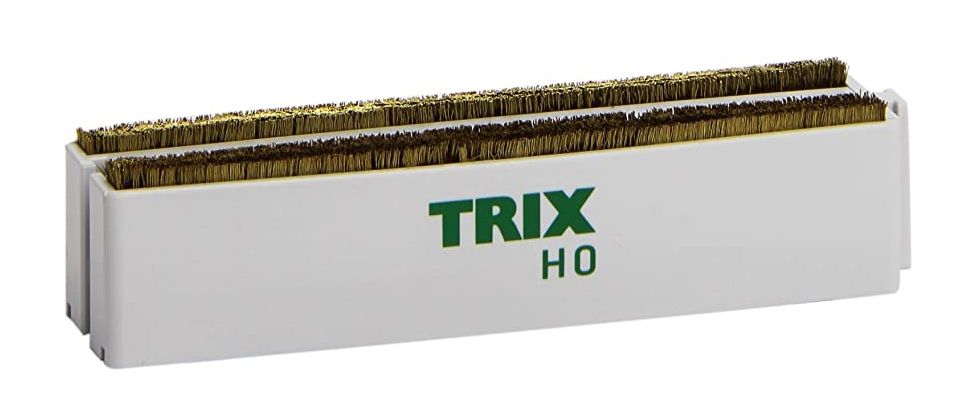 This device sits on top of the rails and you simply place the model train on top of it. Power is applied to the track and the current is drawn up to the locomotive, making the wheels turn. They then rub against the metal bushes at the top of the cleaning brush which dislodges any tough grime and dirt.
👉
Although it's categorized as an accessory for HO scale trains - it'll work fine with OO gauge too.
It's by far the most quick and effective way to clean model train wheels and is used by many modellers as part of their cleaning routine.
It's also works out to be more cost effective in the long run as you don't have to continually purchase large amounts of Isopropyl Alcohol to clean with.
The biggest advantage of using a cleaning brush is that it's a simple, effective and reliable way to clean wheels on model trains for a very reasonable outlay. It usually costs between $30-40 and will last for many years with little to no maintenance required.
It's one of the best cleaning methods available for your rolling stock and the competitive price point makes it a very good investment for ensuring smooth running and reducing the chance of reliability issues occurring.
⚠️
A word of caution - it's important not to use a track cleaning brush if your model locomotive has rubber traction tires as they're not compatible with this cleaning method and will become ruined very quickly.
You'll also want to avoid cleaning model train wheels with any type of wire wool as this will shed iron or steel fibers which could cause short circuit issues, or worse, if they find their way into locomotive components or magnets.
Alternative methods to clean model train wheels
It's also possible to use a track cleaning rubber on locomotive wheels. As the name suggests, this is primarily for use on model train tracks but can be used on wheels too.
Another method is to use some Track Magic cleaning fluid. Simply use the included applicator brush to apply some of the solution to the wheels of your rolling stock and then wipe clean with a lint free cloth.
Whilst these are perfectly viable alternative methods for cleaning model train wheels, the recommended simplest and most effective way is to use a track cleaning brush. Unlike the alternative methods, it's specifically designed for this purpose and will consistently give the best results on loco wheels.
---
Processing your application Please check your inbox and click the link to confirm your subscription. There was an error sending the email
---
Model train wheel cleaning summary
There are two popular options for cleaning model train wheels depending on the level of dirt and grime that has accumulated.
Isopropyl Alcohol - best for small dirt deposits and minor imperfections. Simply apply to the locomotive wheels using a paper towel.
Trix Cleaning Brush - ideal for more substantial dirt build up and caked on grime. It's the quickest and simplest method of removing dirt from model train wheels.
Regular cleaning of locomotive wheels is essential to ensure that your model trains run smoothly. Good maintenance plays a significant role in preventing ongoing reliability and running problems with your rolling stock.
In this guide we've covered the most effective methods for determining how to clean model train wheels. If you've still got an issue with your train set slowing down or running inconsistently after cleaning the wheels be sure to read our guide to the most common reasons model trains slow down for advice and potential solutions.
Refer to our other articles on model train maintenance for up to date advice and additional recommendations on the best cleaning methods for train sets and model locomotives.